what to see in paros Greece
Are you wondering what to see in Paros Greece? All those famous attractions, beaches and sights? We will present to you the most significant in our opinion aspects to see in Paros.  However, if you are visiting our island for many days, e.g. 10 days, you will see much more places.
Panagia Ekatontapiliani Church
This attraction is also known as church with the 100 doors. It is situated in Parikia, the capital of Paros Island. Therefore, if you are staying in Parikia, it is easy for everyone to visit it. However, if you are staying in e.g. Naoussa, you can rent and use one of our cars. The first part of Panagia Ekatontapiliani was built in 326 A.D. and it was one of the first Christian churches in Greece. Therefore, it is quite important attraction for every one of us here in Paros.
Old Town in Parikia
Since we are in Parikia, you need to take a walk among the alleys of the old town. It is an experience on its own. Additionally, they will lead you to Frankish Castle and the famous wall. You will see up close, how the wall was built from ruins of ancient monuments. Few meters away from this spot, there is the well-known Agios Konstantinos Church. Here, you will admire unique architecture and stunning sunset view.
Naoussa
This is definitely one of the most beautiful places in Greece. Without any dubbed, you probably saw many pictures of the village already, before visiting Paros. There are two things to see here, at least. First of all, there is a picturesque small port. This beautiful place is visited by thousands of travellers each year and for good reason. Caique boats (traditional fishing boats) are docked right next to a table, where you can sit and have dinner. Additionally, there are cocktail bars as well here. A short walk to the picturesque Venetian fortress is a "must" and it is on our "what to see in Paros Greece" list. However, when it is windy, you might get wet, when walking on the wall towards the fortress.
The second aspect of Naoussa is its alleys. Beautiful, colourful, Cycladic. You really should spend some time walking among them. Of course, you will find many shops here with jewellery, clothes and other accessories. Additionally, there are also "boutique" cocktail bars and restaurants among the alleys. 
Kolymbithres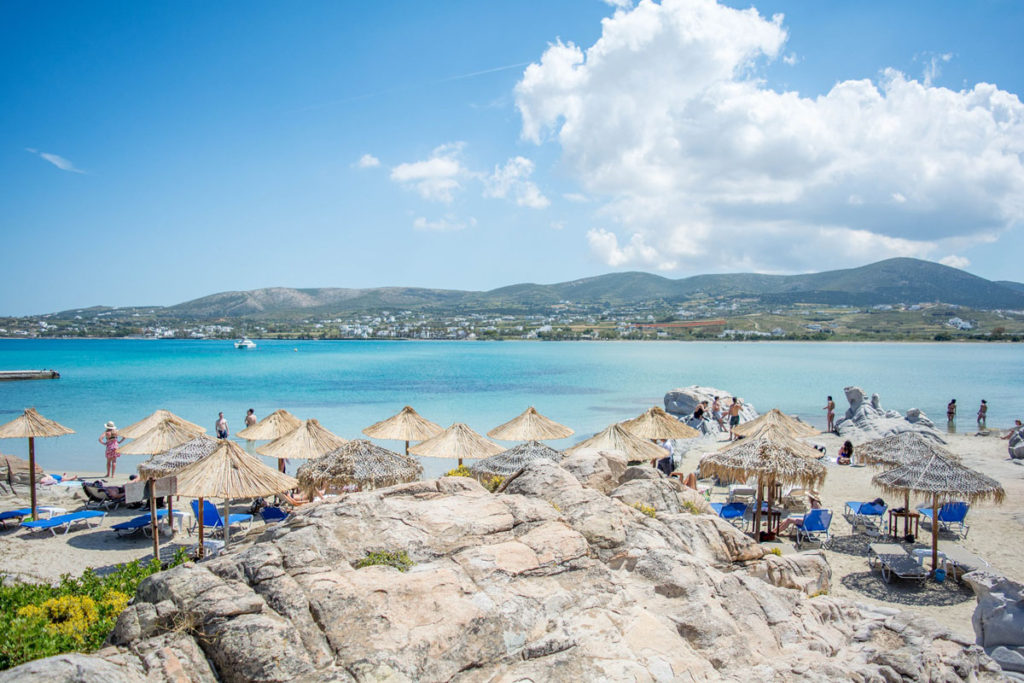 As this is one of the most unique beaches in Cyclades, it is on our "what to see in Paros Greece" list. You will find Kolymbithres beach in Naoussa Bay, opposite to the famous village. The road to this area is quite easy and you can reach it with one of our cars or use the bus. Another way to get there, and we recommend it, is to take caique boat from Naoussa. Therefore, as you can understand, this will be more adventurous.
Kolymbithres is known for its rocks among which you will find two sandy beaches. They feature sunbeds and umbrellas, as well as a beach bar. Those rocks were sculpted by the environment through millions of years of erosion. Due to this fact, it is one of the places you must see. 
Cave in Antiparos
Cave in Antiparos is another attraction created by nature. It could not miss from our "what to see in Paros Greece" list. In this cave, which is situated in Antiparos you will see impressive stalactites and stalagmites. Due to its location, about 170 meters above sea level, and its size, 5600 sq.m., you can understand the magnitude of it. It was known from ancient times and firs human presence is listed during Stone Age. You will see paintings on walls and rocks as you walk through its 3 chambers. It is interesting to know that, the interior temperature of the cave is 15 degrees Centigrade. Due to that fact, you will be comfortable there during summer.
It is very easy to get to the cave, even though it is in Antiparos. If you have rented one of our vehicles, you can drive to Punda port. From there, you will take the ferry and in 10 minutes you will be in Antiparos. Then, find the cave on GPS and you will reach it quickly. Of course, you can take the same route using the bus, both to Punda and from Antiparos port to the cave.
We hope that those five aspects on our "what to see in Paros Greece" list, will keep you busy. Of course another philosophy of vacation in Paros, is to drive from one beach to another and just relax.
Address: Parikia, Paros, 84400 Cyclades, Greece
Agency Phone: +30 22840 22542
Mobile (Stefanos Loukis): +30 6937 516776
Fax: +30 22840 22542
Emai: info@parosrentalcars.com